About the Journal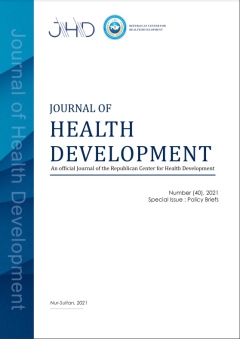 The International Peer-reviewed Scientific and Practical journal "Journal of Health Development" (the Journal) has been published since 2002 (the former name of the Journal is "Менеджер здравоохранения" ("Menedzher zdravoohranenija)". The owner of the Journal is the Salidat Kairbekova National Research Center for Health Development.
The Journal carries out its direct organizational and financial activities on the basis of the provisions of the Charter of the owner of the Journal on economic settlement activities.
International standard serial number (ISSN) 2663-1768 (printed), 2663-1776 (online).
The Journal publishes 4 issues a year and also publishes one special issue with Policy Briefs.
Publication of articles in this Journal is free.
Aim of the Journal is promotion of researches outcomes in the field of social healthcare onto the national and international academic space.
Objectives of the Journal:
- publication of articles containing the results of original research (theoretical and experimental) works, scientific, practical and innovative activities of Kazakhstan and foreign scientists in the field of public health;
- support for an open access policy contributing to further improving the quality and efficiency of scientific research, development of the expertise of scientific works in public health;
- promotion of scientific achievements in the field of public health of Kazakhstan and creation of a dialogue platform between Domestic Scientists and the World Scientific Community;
- assistance in the modernization of education in the training of specialists (doctors and nurses) in the field of public health in accordance with the main trends and requirements of modern times;
- promotion of information about the activities of the Owner of the Journal in the international expert environment and creation of an image in the scientific and academic environment.
Journal Topic-based Directions:
- Health Policies, Strategies;
- Healthcare Management and Corporate Governance;
- Healthcare Practice;
- Health Economics;
- the Quality of Medical Services;
- Public Health;
- Ethical and Legal Aspects of Healthcare;
- Evidence-based Medicine and Standardization;
- Epidemiology and Social Hygiene;
- Education and HR management;
- Information Systems in Healthcare.
Target group of the Journal – Kazakhstan and foreign Scientists, Master's Degree and PhD students, managers who seek scientific and speciality – oriented information.
The Journal publishes copyright materials reflecting the issues of modern public health:
- Original articles;
- Scientific reviews, including systematic reviews and meta-analyzes;
- Policy Briefs;
- Letters to the Editor and critical reviews;
- Short messages aimed at developing knowledge in the field of public health;
- Materials of conferences, symposia and seminars.